Let me start this blog by saying I really don't like banana bread at all. I have tried many recipes over the years. NOPE.. don't like it which is kind of funny because I love bananas. Speaking of have you tried the banana milk shake from Chick Fil A? If you have not, DON'T!!! They are delicious and very addicting. Taste like a banana pudding frozen.. yummmm. Never mind.. just don't do it. We are coming up on warm weather.. I have to go sleeveless, what was I thinking about? Ok, just maybe give it a try one time.
Now back to the banana bread story.. I had some bananas.. you know the story.. just about to go bad. Hmmmm ... maybe I will give the banana bread thing one more try.. So I got out some old recipes and tweaked them a little. This time BINGO... It was delicious! I wanted to share it with you guys
Heat oven to 350
Bake from 1hr to 1 hr 10 mins or until knife comes out clean
Shift
1- 2/3 cups all purpose flour
1 tsp baking soda
1/2 tsp cinnamon
1/2 tsp salt
Beat with hand whisk until light and fluffy (about 10 mins)
1 cup + 2 Tbs sugar
2 eggs
drizzle in
1/2 cup oil
add
3 to 3 1/2 cup of mashed bananas
2 Tbs sour cream
1 tsp vanilla extract
fold in
sshifted ingredients
pour into greased loaf pan (I use butter)
Let cool for 10-15 mins before removing from pan
I don't have the nutritional information.. I'm sure it is high calorie if that is the question.
It is lethal with a drizzle of honey.. yep that's what I needed, more calories.. just trying to fatten you up a little with me..
Speaking of getting fat, .. how about some mint sweet tea? I mean southern style sweet ice tea.. I may be naieve in thinking some of you may not know how to make sweet tea, but considering my youngest says she can't make it .. here you go
Place a medium pot filled with water on a low heat on the stove
add
4 family size tea bags (not instant) or 7-8 regular size bags
2 regular size mint tea bags
Let sit on low heat for 20 mins
(do not boil)
Put 1-1/2 to 1-3/4 cups of sugar (white)
in a container.
Pour strained tea mixture over sugar and mix. (don't put hot tea directly in glass, it will break the container don't ask how I know)
Stir until sugar is melted and then fill up container with water to make about around 3/4 gallon. Serve on ice.
If you would like you can leave off the mint when making and serve with lemon slices.
Just in time for serving on the screened in porch!
This is how I serve mine.
You don't believe that do you? That was a shower for my daughter.
This is it, good ole Tupperware, had it for years.
One last thing about tea. It keeps in the fridge for about 2 days.. after that get rid of it. If you leave it out over night don't drink it.. trust me.. yuck! (don't ask how I know)
Thanks for stopping by. I am really enjoying meeting you guys and looking at your beautiful blogs.
Linking up to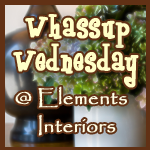 at