My plans to have pictures ready of my table setting didn't pan out today, but I am going to just give you a sneak peak at the china I used. This china was a gift from my Father in Law. I had admired the set at my in laws china cabinet on a visit to them a few years ago. My Father in Law told me it was a gift to him from a neighbor many years ago. She had handed it down to him when she was in her 90's. So when the china arrived in NC from Maine I was thrilled. I really have not received another gift from them that has meant more to me. Not only did I love the china but I am grateful that this special gift given to him would be handed down to me. This china is the pattern Japan by J & G Meakin. Meakin begin producing it in1890. It is a green and white transfer ware that is edged in gold.
The butter pat dishes
The butter dish
I will be putting the post with the table setting for a table up in the next few days. I am excited for you to see the table.. I hope you will stop back by to see how it turned out!
Thank you for stopping by. I would love for you to leave me a note.. I love getting to see all your blogs and getting to know you. Have a lovely weekend.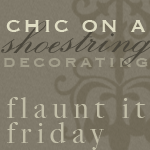 At
&

@
&
@